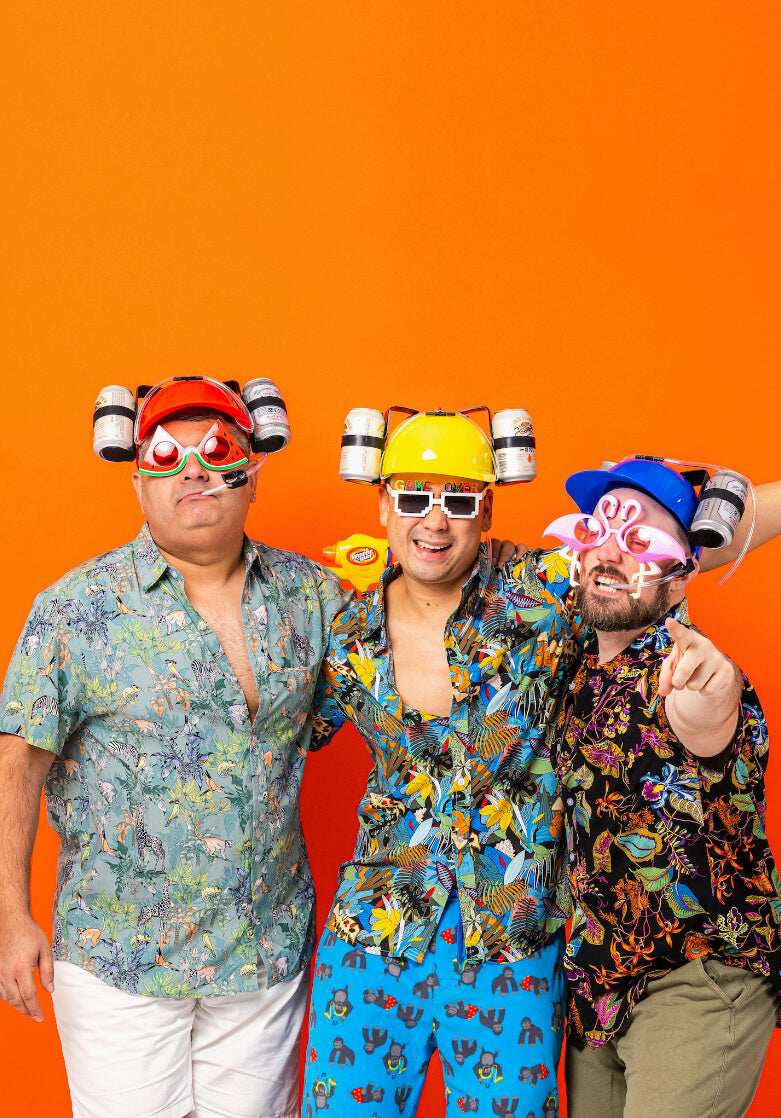 Frequently Asked Questions
We're here to help! Check out our FAQ below,
or send us a message and we'll get back to you ASAP!
📐 WHAT SIZE SHOULD I BUY?

Please visit our sizing page for more detailed sizing information on each fit!
💔 WHAT IF SOMETHING I LIKE IS SOLD OUT?

If there's an item that you really love you can always contact us and we will see if we can have more made for you.

However, most of our prints are limited edition and will never be restocked again, so be sure to grab them while stock lasts! Also, be sure to sign up to our newsletter to hear about our new prints first so you won't miss out again.
🧽 WILL YOUR PRODUCTS SHRINK IN THE WASH?

All Rock Atoll fabrics are pre-washed prior to being made. This removes excess inks and prevents color bleeding, as well as prevents any major shrinkage in standard household washing machines. However, you are advised to hang dry our products to help it retain its shape and quality.
🌎 WHERE DO YOU SHIP FROM?

We ship from Hong Kong via Hong Kong Post, with Express shipping. All our packages are trackable, and generally arrive within 5 to 14 business days.

*** COVID-19 Update: We still ship worldwide to most countries with tracking, and offer free shipping on all orders over $75 USD but please expect some delays. Packages can take up to 10 - 20 days to arrive but are trackable. Thank you for your patience and understanding! ***
We ship worldwide, except for Mexico, Brazil and South Africa. For delivery to the International Space Station, an additional fee will be charged.
💰 HOW MUCH DOES SHIPPING COST?

Shipping within Hong Kong is FREE!

For all other countries we charge a flat rate of $8.99.
And offer FREE shipping worldwide on orders over $75 USD!

Shipping is automatically calculated and deducted at checkout, no coupon codes are necessary
⏰ HOW LONG WILL IT TAKE TO RECEIVE MY PACKAGE?

Please allow 2 - 3 business days for us to process your order! Once shipped, orders generally arrive within 5 to 14 business days:

Hong Kong: 2 - 3 day
Asia: 5 to 8 days
Everywhere else: 5 to 14 business days

*** Christmas deliveries ***

The Christmas season is always hectic! The postal service has to handle a huge increase in packages to process which can sometimes cause delays, especially with the pandemic! To make sure your package arrives in time for Christmas please place your order on or before December 1st!

Any order placed after this date may arrive after Christmas!
💸 DO YOU CHARGE TAXES OR CUSTOM FEES?

All orders placed on our store are completely tax free.

However, you may be charged your local tax rate or custom "duty" fees upon delivery of your package, depending on the laws and regulations of your country. As the buyer, these taxes and fees, if any, are your responsibility to pay.
😱 MY PARCEL HASN'T ARRIVED YET...WHAT SHOULD I DO?!

Check your inbox for our shipping confirmation email, inside you'll find the tracking number for your package so you can check the status of your parcel. If you are still worried about the whereabouts of your parcel after doing this, please don't hesitate to contact us and we will get back to you within one business day!
💵 WHAT CURRENCY ARE YOUR PRICES IN?

Our prices are displayed in U.S. dollars (USD) by default, but you can view our products in your local currency by using the drop down menu on the top right. These are for your reference only, though. All orders are processed in USD at checkout.
👋🏻 HELP! I'M GETTING AN ERROR WHEN I'M TRYING TO PLACE MY ORDER!

First, make sure to check that you've filled all details out correctly, including your name, address and payment info. Still not working? It might be the computer system. Contact us and we'll see if we can track down the problem for you!
✏️ DO I NEED TO SIGN UP FOR AN ACCOUNT TO PLACE AN ORDER?

Nope! We respect your privacy and your preferences, if you don't want to sign up for an account you can just check out as a guest!
🎟 HOW DO I ENTER MY COUPON CODE?

You can enter your gift cards or coupon codes at checkout after you provide your shipping address. Please note that only one coupon code can be applied per order.
🔆 HOW CAN I MAKE CHANGES TO OR CANCEL MY ORDER?

If you ordered the wrong size or provided an incorrect address please send us a message at info@rockatoll.com with your order number and instructions as soon as possible. Please note that time is of the essence, as we cannot make any changes once the package has shipped!
📮 WHAT IS YOUR RETURN POLICY?

New, unworn items with original tags intact can be returned or exchanged within 30 days of delivery (excluding items purchased on clearance). Simply mail the item(s) back to the return address listed on the shipping label, and we'll either refund or exchange it for you depending on your preference. Any freebies that accompanied your purchase must also be returned in order to receive a full refund.

Please note that return shipping costs are your own responsibility, and original shipping costs are non-refundable.
💔 WHAT IF AN ITEM IS LOST OR DAMAGED IN THE MAIL?

We try our absolute best to ensure our packages arrive safely but unexpected accidents can happen and things may end up damaged along the way.

If this happens please contact us immediately and provide us with a photograph of the damaged item and we will replace the items for you ASAP!
⛑ WE ARE NOT RESPONSIBLE FOR LOST OR UNDELIVERABLE MAIL IF ...

The package does not arrive due to a wrong or insufficient address provided at checkout.

Please double check to make sure your shipping address is correct before confirming your order, or contact us immediately if you need to change or update your shipping address.
WHOLESALE:
Oh, we got the goods, alright! Contact us and we will get back to you asap with details!
COPYRIGHT POLICY:
All content appearing on www.rockatoll.com is the property of Rock Atoll, except where stated. Any information, images, copy and graphics cannot be reproduced, used, copied or modified without prior written consent.
PRIVACY POLICY:
Rock Atoll respects your privacy and will never sell, distribute or share your personal information.
For more information please refer to our full privacy statement.
TERMS & CONDITIONS:
By shopping on Rock Atoll, you agree to the terms and conditions outlined above, as well as those found on our Terms and Conditions page. We reserve the right to update our Terms and Conditions at any time.
STILL HAVE QUESTIONS?
Please fill out the contact form below and we will try our best to get back to you within 24 hours.
We're here to help and answer any questions you may have!